Waste containers and the smart system
A smart solution based on cloud services that enables precise location and monitoring of the location and removal of garbage containers. The system includes smart devices and a tracking platform that combines a variety of location technologies and communication networks to provide reliable coverage while maintaining long battery life and low cost.
Efficient management of the container fleet.
Prevention containers theft.
An autonomous device with a variety of sensing and transmission technologies.
Virtual fencing of geographical areas.
Location-based smart alerts.
Automatic monitoring of the use and emptying of garbage containers.
The advantages of the system:
Easy and quick installation.
HoopoSense is a device that is resistant to particularly harsh working environment conditions.
Smart algorithms for sending location operate according to the behavior of the container.
Battery that lasts for years.
Managing the container fleet in an effective and smart manner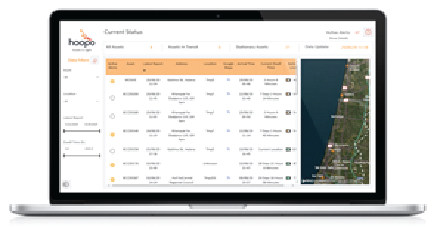 HOPO's digital portal simply presents location – based insights that enable efficient management of the waste disposal system.
An intuitive user interface accessible from a laptop or mobile.
Full visibility of the garbage container fleet on one map.
Map of locations table / length of stay in different locations / /emptying operations.
Information analysis and report generation.